Affiliate Disclosure: Some of the links in this post are affiliate links. As an Amazon Associate, we earn from qualifying purchases. This means if you click on the link and purchase the item, we may receive an affiliate commission, at no extra cost to you. Learn more here.
---
A lot of the articles on jump-life.com so far have been about trampolining. We have been talking about the very best trampolines on the market for different purposes, from plain recreation to serious purposes like weight loss and general fitness. However, have you ever heard of air track and tumbling?
Best Air Track Mat – Our Top 5 Picks Compared
Sizes
10ft/13.12ft/16ft/20ft/23ft/26ft/29ft/33ft/36ft
9.84ft/13.13ft/16.4ft/19.69ft/23ft/26ft/29ft/33ft/36.ft/39ft
3' x 10' x 4", 3' x 16' x 4"
Features
• Wide Application • Durable Material • Easy To Handle • Complete Accessories
• Double-Wall drop stitch PVC laminated fabric • Fast Inflating&Deflating • Easy To Carry and Store
• Double-Wall Material • Electric Air Pump • 1 Year Warranty
• Double-Wall Material • Waterproof & Safe • Electric Air Pump • 1 Year Warranty
• Soft, Safe And Bouncy • Adjustable Pressure • Foot Pump • Portable And Small In Storage
---
Inflatable Gymnastic Tumble Mats for Home Use
Tumbling is a special form of gymnastics that lies at the intersection of gymnastics and trampolining. It's like gymnastics but on a springy surface (see tumbling vs gymnastics for more details).
Basically, it started out as a fun thing but quickly gained traction and turned into one of the major athletic sports in the world, complete with rules and championships taking place on the global stage.
The good news is that you can do some tumbling in your very own home. You don't have to be particularly good at it. In fact, you can learn while doing it. All you need is the right kind of surface to do it on, for your own safety.
That's where air tumble mats and air tracks come in.
There are plenty of different types of tumble mats, from cheese mats to rolled carpets. However, today we're going to look at air track mats, which until recently were only used in the gym and didn't have cheaper and smaller versions made for homes.
Air track offers even more versatility for the user than the trampoline, in case they want to try gymnastics exercises.
However, they are now available for home use, and they are also affordable, making it possible for gymnastics enthusiasts to experience the professional feel right in their homes while having lots of fun.
Since these products are now flooding the market, with lots of variety to choose from, it can feel a little intimidating for the average buyer to figure out which version is best for them.
That's why we put together this Airtrack review to help you find the best air tumbling track. While we consider the EZ Glam's air track to be the very best product, there are also other products we look at that we think you will come to appreciate.
Ready? Let's leap right into it, then!
NOTE: We're focusing on air tracks in this post. If you're rather looking for round air spots, check out our follow-up post with gymnastics air spots.
---
Air Track and Inflatable Tumbling Mat Reviews
---
EZ GLAM Air Track Inflatable Gymnastics Tumbling Air Track Mat
When it comes to versatility, it's pretty hard to beat what the EZ GLAM Air Track Mat has to offer. This air track tumbling mat comes in all sorts of sizes, ranging from 10 feet to 20 feet. You can get whatever works for you, depending on your specific needs.
It can also be used in a variety of places and for a large variety of purposes. It can be used on the gym floor, in a dance club, for home entertainment if you have kids, for professionals to train on, in the park, at school, at home, in your rental business; pretty much anywhere. All you have to ensure is that it stays well away from sharp objects and fire.
As for the durability, this air tumble track is made of some of the most durable material around. The mat itself is double walled for extra strength with commercial tarpaulin that makes for great airtightness.
This air tumbler also comes with a free electric air pump and only takes a few minutes to fully inflate, holding its air pressure for quite a few days. Once you're done with it, you can fold and unfold it easily, and it even comes with a carry bag that you can use to haul it around.
There are different sizes and colors to choose from. It's also worth taking a look at reviews from actual customers.
And if you need more information about this company, and also about the other products they make, then check out our EZ Glam reviews here.
---
Happybuy Gymnastic Air Track Tumbling Mat
The Happybuy Air Track Tumbling Mat is an affordable tumbling mat that does the job well and can easily fit into your home. In fact, it has, for the most part, been designed for use in the house, though you can do all sorts of stuff with it.
Whether you want your teenage kids to do cheerleading practice on it or you want to try some fitness exercises on it, this tumbling mat can take it.
When it comes to durability, a lot of care was taken to build what basically amounts to an indestructible inflatable tumbling mat. The walls of the mat are double-walled and consist of 1000-denies fabric, as well as 0.04in commercial-grade PVC polymer (designed to be durable, waterproof, wear-resisting and for long-lasting use).
It is perfectly air-tight and can handle inflation pressure of up to 5 psi.
In other words, it can take a beating. In fact, to back up the strength of this air tumbling mat, the manufacturers have offered a 2-year warranty on it, which is pretty much a seal of quality.
Apart from its strength and durability, the Darget is also extremely easy to fold, unfold, and inflate and can be carried around with ease. It also comes with a free electric pump!
Check it out at Amazon right here.
---
FBSPORT Inflatable Gymnastics Airtrack Tumbling Mat Air Track Floor Mats
This is another great gymnastic air mat that happens to be extremely versatile. It comes in a variety of lengths, ranging from 10 feet all the way to 36 feet and can be used just about anywhere you can think of, including your home, school, a dance club, in a professional gymnasium, or even at the park. Y
ou can use it for all kinds of purposes, ranging from plain old fun to serious professional use. It's pretty much built for that.
It is a highly durable air tumbling track that's been specifically designed to carry out its task to perfection. The material is double walled, which is also called 'drop-stitched,' and includes commercial grade tarpaulin. It is airtight and can handle air pressure up to 5 psi, holding that pressure for a few days on end.
As for accessories, this tumbling mat comes with an electric pump free of charge. When inflating with the electric pump, inflation takes no more than a minute. It also comes with great after-sales service, with a money back guarantee of 2 months and a full warranty of 1 year.
In other words, it's a great product all around. But don't take our word and check out these reviews on Amazon, with user pictures and plenty of interesting information from actual users.
Note: if you need to learn more about FBSports and all the products they offer, read our FBSport reviews here.
---
Airacker Air Track Air Floor Mat
The Airacker, available on Amazon right here, is in the league of the most versatile tumbling mats on the market. This particular tumbling mat can be used for intense, repetitive training and competitions in the most professional of situations.
This particular air tumble track can be used for intense, repetitive training and competitions in the most professional of situations.
It can also be used for gymnastic exercises for amateurs and professionals alike and can be used for simple home entertainment.
It's simply one of those tumbling mats that was built to be used just about anywhere and for just about anything. The best part is that you can use it on water!
This tumbling mat is exceedingly durable. The walls are double walled and consist of commercial grade PVC tarpaulin while all of the seams have been reinforced.
It also folds and unfolds easily and includes handles integrated into the build to make it easy to carry. As a result, it is highly portable, and you can take it with you just about anywhere you go.
This tumbler mat also comes with a free electric air pump that will fully inflate it in less than a minute. The pump is very quiet during inflation, and the tumbler can maintain air pressure for a few days.
The best part of this air tumbler for us is how waterproof it is. You can use it in your home pool without having to worry about the water getting in. It is also very safe with the air beam that allows you to jump repetitively without worrying about injuring yourself.
This tumbler mat also comes with 2 months money back guarantee and a 1-year warranty.
Go to this product page at Amazon to read customer reviews and to see many questions answered by the seller directly.
---
AirTrack Factory Mats for Home Use
AirTrack Factory is actually the original manufacturer of air track tumbling mats for home use, and this company is the source of the name "air track tumbling mat." They are both the pioneers of the industry and also the most respected name in the sector.
Their mats are a bit on the pricier side. However, they are also of insanely good quality, and you are going to love them.
The whole idea behind an Air Track Factory tumbling mat is that you get the same experience as you would get at the gym but at a significantly lower price. Every consignment comes with a free foot pump to inflate the tumbling mat, and every tumbling mat is portable, being easy to fold and unfold with ease.
That means you can take it with you wherever you go. They are also insanely light, making portability very easy. Each mat only weighs 45 pounds!
As for the material, they obey the highest standards, with double-walled fabric and commercial grade PVC tarpaulin.
The mat dimensions also extend to 10 feet and above, making them well suited to learning cheering squad moves and gymnastic skills.
Each mat also comes with a 2-year warranty, which happens to be one of the best in the industry, and you can even choose to have your own branding added onto the mat, especially if you're buying it for commercial purposes.
The only unfortunate thing about this particular brand is that they are limited in stock at Amazon. Therefore, we'd recommend first to check the current availability and then, if the product isn't available at Amazon, to buy on the manufacturer's website.
---
Airtrack Guide: How to Choose the Best Air Tumble Track?
So what, exactly, is an air track, also called an air tumble track? As per our research, the Airtrack name was first used by Air Track Factory, who were the first to manufacture these inflatable tumbling mats for home use.
To be sure, inflatable tracks for gymnasts have always been there, but they were for professional use in large gyms and competitions.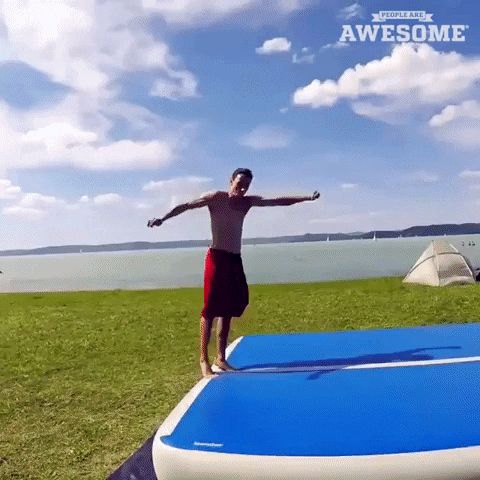 Air Track Factory began to make affordable versions for use at home. They experienced great success within the first year of operations and, as a result, many other brands leaped in to cash in on the high demand.
So to sum it up, an air track is an inflatable tumbling track, on which the user can do a variety of exercises, including gymnastics and simple trampolining exercises.
While an air track has less 'spring' than an actual trampoline, it still is suitable for most of the exercises you could do on a trampoline. Additionally, you can do gymnastics exercises on it if you're a gymnastics enthusiast.
That's what makes the air track so attractive: the fact that it offers even more versatility for the user than the trampoline, in case they want to try gymnastics exercises.
Besides, while you can also try gymnastics exercises on a trampoline, the air track is more realistic and closer to the kind of surface you would find at a professional gym or in professional competitions.
---
What Considerations should you make?
There isn't much to consider when getting yourself an air track tumbling mat. However, the few that are there are pretty important:
The Size

The size of the air track matters because you will want one that can both fit in whatever area you will lay it out and also accommodate the types of exercises you will perform on it. A minimum of 10 feet is good for most purposes. However, if you know you will be doing more complicated routines, go for a greater length.

Thickness

Depending on the intensity of the exercises you will be performing, you should go for different thicknesses. The thicker the tumbling mat, the higher its absorption capabilities. If you will be doing intense, repetitive exercises on it, then you will want to go for one with high absorption capabilities.

Features and Accessories

The features and accessories that come with the tumbling mat are also an important consideration to make. For starters, most of the best air track mats on the market come with a free pump. The cheaper ones will come with a free hand pump while the pricier ones will come with a free electric air pump. This makes it easier to inflate the tumbling track for exercise.
The tumbling mat should also be portable, which means it should be easy to fold and unfold and should become small enough after folding that you can easily carry it around with you. Ideally, it should also come with integrated handles and a carrier bag that is strong and durable.

Price

This is the most obvious consideration you should make. The prices for tumbling mats range from hundreds of dollars to thousands. Your pocket is ultimately the largest factor in which one you buy.
However, remember that the pricier ones also tend to be of higher quality and vice versa, so strike a balance and don't buy one that's too cheap, only for it to have issues after a few months.

Warranty

Most of the good tumbling mats on the market have warranties of 1 year or more. The very best have warranties of 2 or more years. These are the ones you should be going for.

---
Air Tumble Track FAQ
Here are some common questions we've seen people ask when researching information on best air tumble tracks:
What is the difference between Air Tracks vs Tumbling Tracks?
An air track is a type of tumbling track. It is an inflatable tumbling track, which means that it uses air to cushion landings and falls. There are other types of tumbling tracks as well, most of which use either PVC foam or fiberglass.
What pressure should I use for an air track?
A good pressure for an air track is anywhere between 3 psi and 5 psi (pounds per square inch).
How much do air track mats weigh?
Most of them weigh less than 60 lbs., though the exact weight depends on the manufacturer.
What is the lifespan?
It depends on the manufacturer, though the warranty offered by the manufacturer can give you a clue as to the lifespan of the tumbling mat. Most of them have warranties of a year while some of the best have warranties of 2 years or more. Generally, you can expect an air tumble track to serve you for a couple of years at least before it starts to have too many issues.
---
Air Track Tumbling Mats – Where to Buy?
There are lots of places you can buy them, including the manufacturers' websites. In fact, for the air track tumbling mats from Air Track Factory, the manufacturer's website is the only place where you can buy the tumbling mat.
However, the majority of them can be purchased on third-party marketplaces, and one of the largest with possibly the widest offer is Amazon (you'll find them here).
Buying your products at Amazon leaves you at an advantage. You get to read reviews left by real users who have used the products and written their opinions about them. You can use those reviews to determine if the products are right for you or not. You also get buyer protection at Amazon, which allows you to return products that you are not satisfied with.
In some cases, you get expedited shipping, such as one-day shipping. You can even get free shipping if you're a Prime member.
---
Airtrack Reviews – The Bottom Line
And with that, we end our search for the best inflatable tumbling mat. It's a great exercise and fun tool that you can put in your house for your use as well as for your kids. If you would like a great product to get started with, then you'll love the EX Glam, which we subjectively titled as the best tumbling mat on the market right now.
Happy tumbling!
Last update on 2020-11-27 / Affiliate links / Images from Amazon Product Advertising API